1.
We, through our reusable transport container services for global logistics, strive to counter environmental degradation and contribute to a society for the continued prosperity of humankind.


2.
We, as a global logistics company without borders, understand and share both the rigors and pleasure of doing business, and pledge to offer our customers dependable and quality service.


3.
We aim to always better and improve ourselves to provide services backed by high industry and technological standards.


4.
We will continue to be a global environmental logistics company that contributes widely to our society.



There was a lack of expertise on the professional handling methods, and little knowledge on the regulations of transportation for ISO tanks. The demand for such tanks in Japan was low back then, as a result of the less mature domestic market. Nichicon was founded in January 1994, with the aim of revolutionizing the liquid transportation industry in Japan. We are the fore-running pioneers of this industry in Japan and have amassed valuable experience ever since.
The first ISO tanks were prevalent in the 1960s, and were widely used in Europe and the USA.
During that time in Japan
Liquid transportation in Japan in the 80s used mainly parcel-tankers - for high volume transportation, and drums or tank-lorries for smaller volume transportation. During that time, in the case of exports and imports as well as domestic transportation, the liquid cargo only arrived at its final destination after several rounds of unloading and reloading. For example, from storage-tanks to tank-lorries, to drums or tankers, and finally to storage-tanks or to tank-lorries again, at the final destination.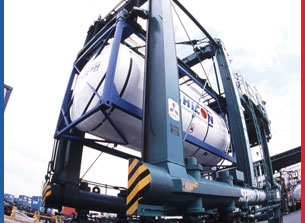 Amidst the increasing concern for the global environment, the disposal of transportation drums and liquid residue was soon identified as a critical source of pollution. Meanwhile, ISO tanks were being developed under UN authorization in Europe and USA and were established as the ideal transportation equipment for dangerous liquid cargo. This offered a solution to the pollution, while enabling the safety transportation dangerous liquids at the same time.

The development of ISO tanks also enabled the multi-modal transportation of liquid cargo to the extent of Door-to-Door delivery. On top of that, ISO tanks could also be re-used after cleaning.
As a result of the efficiency, safety and cost effectiveness of ISO tanks, they quickly gained recognition in the dangerous cargo transportation industry, and its use soon expanded not only in Europe and the USA, but in Asia too.
As an instrument to transport dangerous liquids, the most crucial attribute of the ISO tank is to ensure safety during transportation.
It is also essential for ISO tanks to undergo proper cleaning and maintenance so as to prevent problems such as leakage, contamination, discoloration etc.
In Nichicon, we strongly believe we need to provide full assurance on safety for transportation of dangerous goods. We have developed our own cleaning & maintenance tank terminal to ensure safety levels are maintained at all times.
In accordance with this policy, we have established our own cleaning tank terminal in Tokyo and Kobe. Since then, we have been building our experience in cleaning as well as the technical knowledge of providing safe tanks for transportation.
In addition to the Kawasaki and Kobe tank terminal, we have also established other tank terminals in Futtsu, Yokkaichi, Mizushima, Tokuyama, Niigata and Port Kelang in Malaysia. These tank terminals provide the Dangerous Goods with warehousing service, decanting service from ISO tanks to tank-lorries or drums and heating as well as cleaning services.

More than 20 years have passed since Nichicon was founded.
Although we started the operation with a very humble beginning, the number of containers owned by the company rises from year to year. The number of cleaning tank terminals also increases annually and our overseas network expands at a promising pace.
Our achievements are accomplished by building cordial and reliable relationships with customers. We also believe it is essential to accomplish the revolution in liquid transportation in the future too.
We will continue to provide safe and reliable ISO containers, and support our customers with efficient logistics in all areas.
It is our mission and our concept.